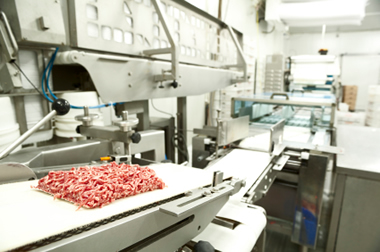 Total Packaging Solutions offers a broad line of packaging solutions for commercial packaging suppliers:
Standard and custom vacuum and MAP bags and pouches with standard, shrink, and boil (high heat) options
High barrier forming and non forming films
Compostable bamboo packaging trays vegetable and meat food products
Recyclable PET packaging containers
Complete customization
Vacuum and MAP Bags and Pouches
TPS's high quality vacuum bags and vacuum pouches are imported from our qualified partners in Europe and meet strict quality guidelines.  We maintain large inventories of our standard products so you're plant is always supplied.
The strength, quality, and durability of vacuum sealing is a dependent on the quality of the packaging material. Bag composition, proper sizing, feeding, and material thickness all play a role in getting a proper seal.  At TPS, we offer a a large variety of standard bag sizes and gauges to accommodate most applications.  We also can design and deliver custom product to fit your special packaging needs.
Aside from excelling in mechanical, impact and seal strength, our bags are designed with details that set your products apart and make your products look pleasing:
Clear visibility windows
Re-closable and zipper features
Side seals
Metalized packaging surfaces
Accurate printing
Tear notches & retail hanging holes
Stand up package styles
High temperature pouches (Boil-in-Bags)
TPS offers complete customization of products including custom shapes, custom sizes, full color printing, and special mechanical features.  Visit our custom packaging page to learn more.
Compostable Produce and Meat Packaging Trays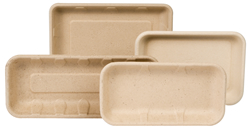 The move toward reducing Styrofoam packaging is gaining widespread acceptance.  Laws on limiting Styrofoam use are expanding.
TPS offers a great alternative to Styrofoam packing trays – 100% compostable bamboo packaging trays for meats and produce – it's the easy solution to going green.  Compostable trays have a handling and performance similar to foam, but eliminate the impact of trash in our environment and landfills.
Your customers will appreciate the difference.  To learn more about using TPS compostable packaging trays, please contact us.
PET Containers and Packaging Trays
Our PET clamshells and trays are made from at least 80% recycled water bottle material. Recycled products reduce waste during the manufacturing process, and these containers and able to be recycled.
Recyclable PET containers are sturdy, high-quality, and easy to pack and transport.  They provide superior protection, keeping your products fresh and undamaged.  Recyclable containers represent a better choice for food packagers who understand the waste, cost, and ecological harm of shipping in standard plastics.
Got questions?  Contact us to talk about your packaging needs.