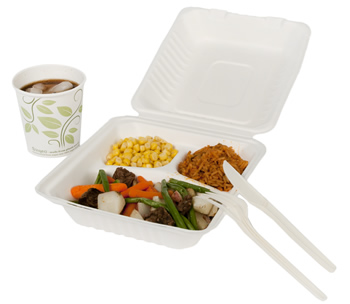 The packaging demands in food service facilities are complex and ever-changing.   Beyond yesterday's issues of quality, productivity, and cost are now new concerns about social responsibility and eco-friendly packaging.  Even if you're still trying to decide if eco-friendly products are right for you, your customers are already aware of the growing trash problem caused from non-compostable packaging and it's making a difference in their buying choices.
Going 'green'… it's easier than you might think!
Total Packaging Solutions carries a complete variety of eco-friendly packaging products, tableware, and cups.  TPS's eco product line is completely compostable and most carry a certification of compostability.  It's quality that you will be proud to display at your location.
"Green" products today are functional and flexible – from freezer to microwave. TPS manufactures compostable hinged-lid containers, plates, trays, bowls all made from renewable resources like bamboo and sugar cane bagasse.  They make amazing compostable tableware and cups from PLA, a compostable plastic that looks and feels just like non-compostable plastics.
The complete line of TPS eco-friendly products is kept in-stock, ready for immediate shipment.  Need to start small?  TPS makes small lot buying easy with mixed lots and flexible shipping.  Or check out our on-line store to purchase small lots of our most popular products.
Have questions?  Contact us at (860) 644-6994 or use our rapid contact form.